This large Motor Yacht is available either in displacement or semi displacement hull configuration and is ideal for those who seek a motor yacht that combines the ultimate comfort with seaworthiness all wrapped in a stylish package that will assure your pride of ownership. Several of these yachts have already been built in Fibreglass and Steel and the large plans and full size patterns are well detailed. You may also build this vessel in Aluminium. This is a large vessel however any capable handyman can build this boat by following our plans.
Minimum power requirement for the displacement version would be twin 130 hp to give this vessel a cruising speed of 8 kts. Twin 300 hp engines should be capable of driving the semi displacement version to 15 kts.
The study plan package include sample construction sheets and large scale accommodation layout and general arrangement drawings plus basic material lists.
L.O.A.
19.96 m
65' 6"
L.W.L.
17.50 m
57' 6"
BEAM
5.94 m
19' 6"
DRAFT
1.00 cm
3' 3"
DISPLACEMENT : approx
3,7000 kg
81,500 lb
POWER
260 to 2100 hp
SPEEDS
8 to 15 kts
Version A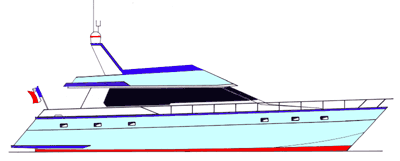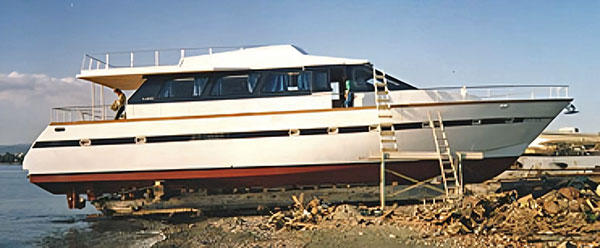 This Waverunner 65 was built using the
"Ezi-Build" mold technique for fiberglass.
This fiberglass boatbuilding technique is fully explained
in the study plan set.
Version B


Waverunner 65
Brand: Bruce Roberts
Product Code: Waverunner 65
Availability: In Stock
Related Products
Tags: roberts, plans, designs, adventurer, spray, canoe-stern, centennial-spray, classic, coastworker, fine-line, henry-morgan, longboat, powercat, trawler yacht, new york, waverunner, tom thumb, trader,