The original A and B versions of this design can be built as semi-displacement and offer two great cruising layouts. They can be built in either steel, aluminium or fibreglass.
The new version 'C' of the popular Waverunner 52 will find favour with those who prefer the Trawler Yacht styling. This plan was prepared for a builder from Florida who wished to undertake some serious cruising and finds this type of larger power cruiser best suits his requirements. Although this version of the design is suited to fibreglass or wood/epoxy construction, to date the plans have only been drawn for steel or aluminium. If you are considering building in one of the other materials then we can prepare semi-custom plans to suit your needs. Twin engines are planned for this boat however a single engine installation is possible. The hull could be modified to a full displacement type for those who prefer that configuration.
The Sport Fisherman version 'D' features a modern styling on a semi displacement hull design. The first of this design is being built in Scotland and will be used as a charter party fishing boat.
Displacement and Draft will vary slightly according to version and hull building material.
These pages can be printed out which may enable you to more clearly see the many variations of this design.
The complete large scale study plan package covers all versions of the Waverunner 52 and includes sample construction sheets and a main material lists.
LOA
15.77 m
51' 9"
LWL
14.06 m
46' 2"
BEAM
4.90 m
16' 0"
APPROX DISPLACEMENT
fiberglass or aluminum
20,410 kg
45,000 lb
steel
26,310 kg
58,000 lb
POWER
semi displacement hull
250 to 450 hp
SPEEDS
semi displacement hull
9 to 14 kts
Version A
Aft Deck Version
Version B
Aft Cabin Poop Stern Version
Version C
Trawler Yacht Version

Version D
Sports Fishing Version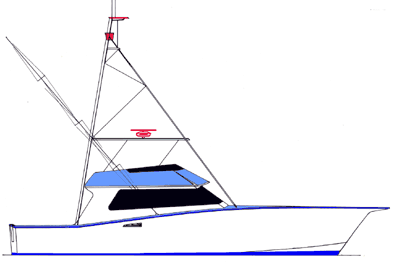 Waverunner 52 A
Waverunner 52 B
Waverunner 52
Brand: Bruce Roberts
Product Code: Waverunner 52
Availability: In Stock
Related Products
Tags: roberts, plans, designs, adventurer, spray, canoe-stern, centennial-spray, classic, coastworker, fine-line, henry-morgan, longboat, powercat, trawler yacht, new york, waverunner, tom thumb, trader,