Many examples of this design have already been built in fibreglass and the economy and seaworthiness of this boat is outstanding. A single inboard engine of between 60hp and 120hp will give speeds of between 8 to 12kts. This is a very easy boat to build. Plans are available for fibreglass construction.
The study plan package contains construction drawing sheets, accommodation layout and general arrangement drawings, a main materials list for both materials plus other assorted items.
L.O.A.
9.75 m
32' 1"
L.W.L.
8.53 m
28' 0"
BEAM
3.53 m
11' 7"
DRAFT
0.88 m
2' 10"
DISPLACEMENT
6,350 kg
14,000 lb
POWER
60 - 120 HP
Version A


Version B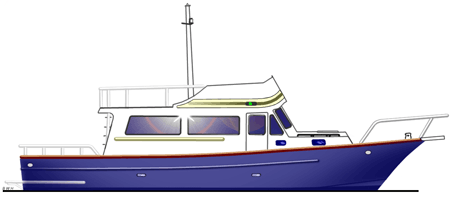 Below are pictures of a TY 32 being used as a commercial fishing boat. This vessel carries 1 tonnes of water, 1.8 tonnes of fuel and has a cool room capacity for 1.5 tonne of catch. It also has full refrigeration plus a snap freezer, an auxiliary 240 volt power plant, stabilising arms plus many more weight bearing pieces of equipment and yet, powered with a Perkins 4236 (80hp) coupled to a 2:1 reduction box, it still cruises comfortably at 7.5 kts with stabiliser arms down and only uses approx 7 litres of diesel per hour.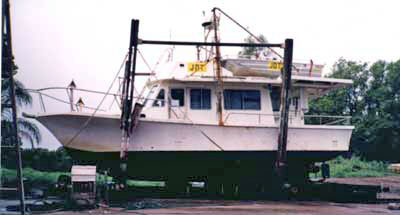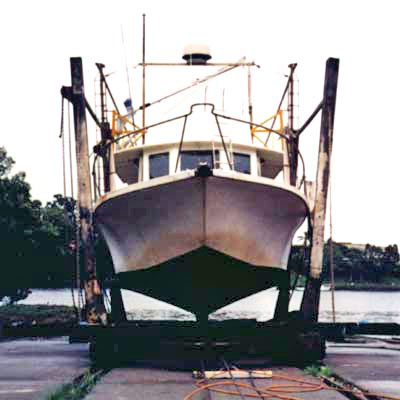 Trawler Yacht 30-32
Brand: Bruce Roberts
Product Code: Trawler Yacht 30-32
Availability: In Stock
Related Products
Tags: roberts, plans, designs, adventurer, spray, canoe-stern, centennial-spray, classic, coastworker, fine-line, henry-morgan, longboat, powercat, trawler yacht, new york, waverunner, tom thumb, trader,