The Mauritius 43 and Norfolk 43 plans were first drawn in 1969 and have been one of our most popular designs with over 2,000 examples currently in service throughout the world. There is barely a port in the world that doesn't have one of these yachts gracing it's waters. Although the R434 was drawn to supersede the 43 the 434 has never reached the popularity that these designs attained. Even now 43's are launched by enthusiastic owner builders. Sail plans have been drawn to enable this design to be rigged as a ketch, cutter or sloop.

You can build the Mauritius or Norfolk 43 in Fibreglass or wood epoxy with a round bilge hull or from steel or aluminium with a multi chine hull form. Both these designs are centre cockpit with the difference being a flush deck (Norfolk), or with a long coach house (Mauritius). A motor sailing Mauritius version is also available. All versions offer many different below deck accommodation possibilities.

Early versions, especially the steel multi chine configuration suffered bad steering characteristics. This was rectified on later versions with plans also available for rectifying the earlier steering difficulty.

The large study plan package shows the construction techniques required in the material of you choice and includes material lists, accommodation layouts and a variety of sail plans.
| | | |
| --- | --- | --- |
| L.O.A. | 13.18 m | 43' 3" |
| L.W.L. | 9.91 m | 32' 6" |
| BEAM | 3.96 m | 13' 0" |
| DRAFT | 1.52 m | 5' 0" |
| DRAFT | 1.80 m | 6' 0" |
| DISPL. | 12,193 m | 26880 lb |
| BALLAST. plus trim | 3556 m | 7840 lb |
Ketch Rigged Mauritius 43
Sloop rigged Norfolk 43.
Rigs are interchangeable between these two versions
Interior of Pilot House Version. See picture below. Fine wood finished interior of a Fibreglass Mauritius 43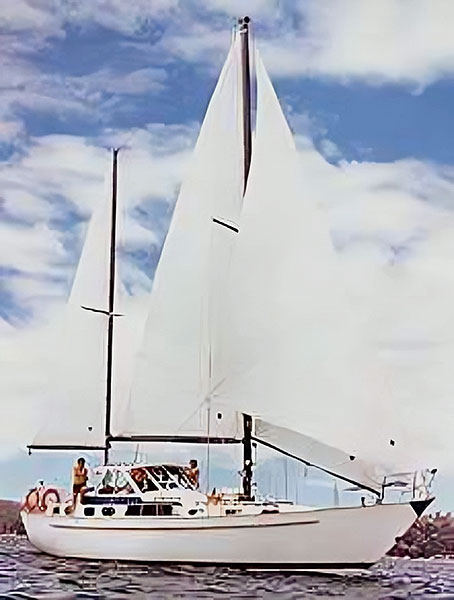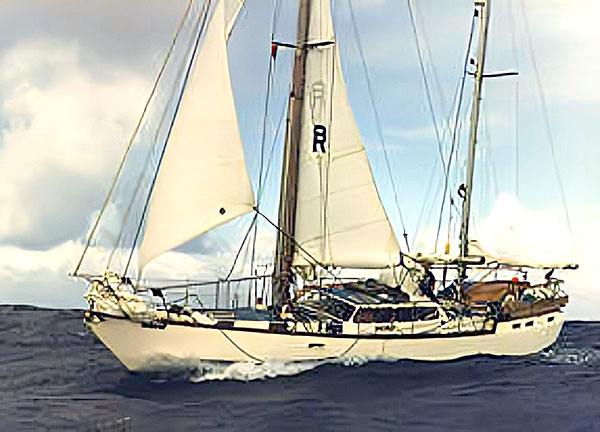 Mauritius 43 Pilot House Version This Roberts 43 sailed around the world from UK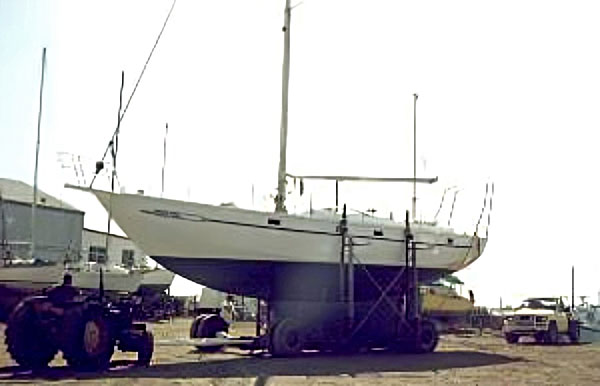 Mauritius 43 interior Norfolk 43 ready for launching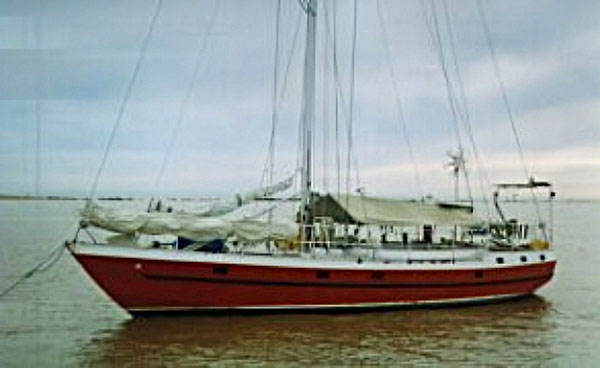 This fine Norfolk 43 was built in Sweden and sailed to Australia
Many have found the early R43's (vessels built from plans bought in the early seventies) difficult to steer downwind, especially the shallow drafted ketch version. This can be rectified by altering the keel/rudder configuration, drawing of which are available from us for $20.00. View Here
Mauritius / Norfolk 43
Brand: Bruce Roberts
Product Code: Mauritius / Norfolk 43
Availability: In Stock
Related Products
Tags: roberts, boat, plans, designs, spray, canoe-stern, centennial-spray, classic, fine-line, henry-morgan, new-york,