Full plans for this design are available for building in round bilge Fiberglass or Cold Moulded Wood Epoxy. They are also available in Multi-chine for building in Steel or Aluminum. It can be rigged as a cutter or ketch with either a centre cockpit or aft cockpit configuration.

The Roberts Offshore 38 is a solid cruising yacht designed to be handled by a couple and to give a comfortable ride and good all round sailing performance. The complete plans and full size patterns include many sheets of large-scale drawings, plus full-size frame patterns.

The large scale study plan package includes all the rig variations and the general arrangement and accommodation plans for both the centre and aft cockpit versions in full 1/2'' = 1' scale. Included also are construction drawings sheets showing the method required to build her in the material of your choice.
| | | |
| --- | --- | --- |
| L.O.A. | 11.66 m | 38' 3" |
| L.W.L. | 8.38 m | 27' 6" |
| Beam | 3.43 m | 11' 3" |
| Draft | 1.70 m | 5' 7" |
| Displ. | 7,010 kg | 15,456 lb |
| Ballast | 3,048 kg | 6,720 lb |
| Power (Diesel) | | 20 - 30 hp |
Version A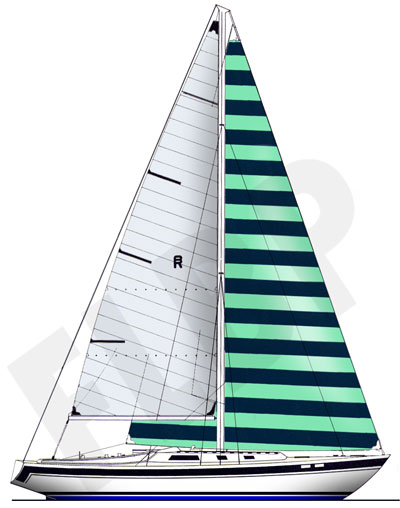 Version B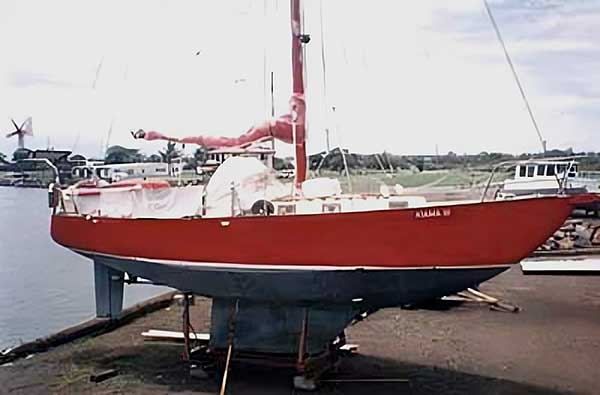 THE DRAFTING TABLE by Robert H. Perry
Mr Perry has a growing reputation as one of the leading modern yacht designers. Among his designs now in production are such boats as the ct-54, ct-37, Valiant 40, Bystedt 30, Buchan 2-Tonner, and Freeport 41. He is also presently designer for Islander Yachts.
We at Castoff feel very fortunate to be able to bring to our readers his evaluations and comments on designs featured in this section.
Bruce Roberts-Goodson has made his name in the yacht design field as one of the foremost designers of sailing craft for the home builder. It is probably safe to say, that there are more Bruce Roberts-Goodson designs being built by amateur builders than any other designer. Having worked in the field of designing for the home builder myself, let me assure you that it is more demanding of the designer than designing for professional yards. The designer must tell the builder what to do and also just exactly how to do it. It seems that there is never an end to the questions of the home builder and I used to anticipate the day when I received the letter asking explicit directions on how to wipe a nose.
The ROBERTS 38 was designed for a client in Venezuela as a handicap racer and a family cruiser. To date 300 copies of this plan have been sold. The hull features quite moderate proportions. The keel and skeg are both generous enough to insure easy steering and good tracking. When the designer says "handicap" racing, I'm sure he doesn't mean I.O.R. The ROBERTS 38 really has no I.O.R. features at all. This actually is a positive selling point in today's I.O.R. fearing world. To compliment the variety of building materials listed for the hull, the designer has designed the boat in a round bilge or hard chine configuration. This is certainly a plus if you are interested in building a steel or aluminium yacht. I'm sure the round bilge version would be a faster yacht although possibly slightly more tender than the hard chine version.
The interior is offered as a centre cockpit version or as the standard aft cockpit configuration as shown. The drawing shows clearly the arrangement and there is little I can find fault with. The interior shows no effort to crowd in "fad" accommodations. All the areas are roomy and very usable.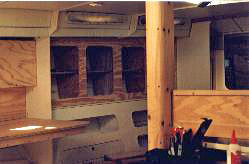 The ROBERTS 38 is available in either a ketch or a cutter rig. Regular readers of my reviews will have no trouble guessing that I prefer the cutter. The cutter seems more consistent with the design of the hull.
In designing a yacht with the sale of stock plans in mind, Roberts must avoid radical features or specialisation that would limit the appeal of the yacht. With this in mind, it is not surprising to find that the overall impression of the ROBERTS 38 is one of a very conservative design. Or, put another way, the extraordinary thing about the ROBERTS 38 is that there is nothing extraordinary about the design. While this may sound a little negative, in this case it is positive and accounts for the tremendous acceptance of the design.
The plans come complete with full size patterns to eliminate the lofting stage. This is sort of like using the cross-country skis that you don't have to wax, not traditional but increasingly popular. The plans include 30 sheets of drawings with very little left for the imagination. The step by step building procedures are fully outlined in the drawings. If you are the type that enjoys building, and you are contemplating building a yacht, I would advise that you go to a designer that deals solely with the home builder. He will be most understanding of your problems and probably will have answered your questions numerous times. I think Bruce Roberts-Goodson has proven himself many times over in this area.
Reprinted with kind permission from Castoff magazine, Seattle.
Letter from a U.S. Offshore 38 Builder.
Mr Bruce Roberts,
I'm ashamed with myself for not writing and sending you pictures of the boat I built from your plans because your design has presented me a very beautiful boat. This boat is complimented in each little harbour we have visited. People on the water have come by to remark on a beautiful boat. Naturally that swells my pride. So you see,- I feel guilty- you should share in the praise this boat has received.
Pictures don't describe the real entity, but this is all we can offer you now. Maybe our enthusiasm and pleasure described in this letter will help reveal the boat's real character. I'm not a great sailor but this boat makes me look great. It sails close to wind well, and in a light breeze moves gracefully. In strong winds with smaller sails on it is stiff and swift. I couldn't be much more comfortable in my easy chair at home. My wife and I handle it quite easily now and we are past the middle years of our lives.
From the time I received the materials from Clark Craft until I put it in the water, 13 months elapsed. During this time I held onto a full time job as a carpenter to give me the money to keep this boat going. Needless to say, I, like many we've met since who are building boats, didn't have all the money at the beginning. Somehow, and strange it is, money seems to come along to build a boat.
Temporarily, we are now living on the boat in Vallejo, and each day and each week we are learning more about the trust we place in this boat. It has faced up to some good challenges and we are again shown the durability this boat has.
I'm glad we chose your design and whenever I'm asked you can be sure I'm happy to say this is a Bruce Roberts design.
A happy boat builder (amateur)
Dick and Dorothy Larson
Offshore 38
Brand: Bruce Roberts
Product Code: Offshore 38
Availability: In Stock
Related Products
Tags: roberts, plans, designs, adventurer, spray, canoe-stern, centennial-spray, classic, coastworker, fine-line, henry-morgan, longboat, powercat, trawler yacht, new york, waverunner,