This design has been prepared especially for Steel construction. Frameless building techniques together with other saving techniques are fully explained in the large scale Plans and Full Size Patterns. The Hull lines were drawn and fully expanded using Auto Yacht Computer Design programs and will ensure a fair and easy to build hull. All of the construction sheets were drawn using AutoCad software and we took the opportunity of the extra design calculations made possible with our in house design software.
The accommodation is our suggested use of the available space, you may wish to layout your own arrangement. There are many and varied ways that a boat of this size can be planned to suit your needs. We offer to check desired layout. To make a satisfactory job of your particular interior plan you will need the full plans and patterns, ensuring that you do not put some item of accommodation outside the hull.
The engine arrangement is we feel the best for this size of boat. You will be using otherwise mostly unusable space to its best advantage by installing a V-Drive coupled to your chosen engine. An engine located under the Pilot House sole would make the height of the superstructure far to high and would affect the overall stability of the boat. To sum up the engine is best placed as shown.
Inside steering would be possible, again we feel that you would adversely effect the remainder of the accommodation. If inside steering is a must then we refer you to slightly larger Waverunner 25.
The study plan package contain sample construction sheets, accommodation layout and general arrangement drawings as well as a main materials list for steel.
| | | |
| --- | --- | --- |
| L.O.A. | 6.93 m | 22.83' |
| L.W.L. | 6.07 m | 19.91' |
| BEAM | 2.74 m | 9.0' |
| DRAFT | 0.76 m | 2.5' |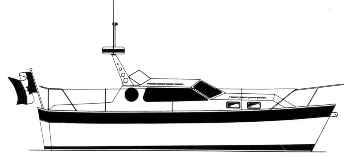 Waverunner 22
Brand: Bruce Roberts
Product Code: Waverunner 22
Availability: In Stock
Related Products
Tags: roberts, plans, designs, adventurer, spray, canoe-stern, centennial-spray, classic, coastworker, fine-line, henry-morgan, longboat, powercat, trawler yacht, new york, waverunner, tom thumb, trader,