The set of plans for this design are no longer for sale.
This page is for information only. If you have bought one of these boats and require a set of plans we hold the complete set still. We no longer offer it for sale as we no longer sell any planing hull forms.
Designed for construction in either steel or aluminium, this makes for a good first time boatbuilding project. It makes an ideal all purpose workboat, dive boat or fishing boat. With an extended cabin it can also be turned into a comfortable smaller cruiser for a couple.
The plans come for a single inboard engine installation and you may choose between either displacement or semi-displacement hull form. Power options range from a 50 hp engine in the displacement version to 120 hp in the semi displacement version. The pilot house may be extended aft if you wish to build her as a family cruiser and require more accommodation.
The study plan package has details of all of the construction techniques and includes materials lists, and accommodation layouts to scale.
Avvailable as a Semi-displacement and Displacement designs
L.O.A.
7.80 m
25' 6"
L.W.L.
7.16 m
23' 6"
BEAM
3.05 m
10' 0"
DRAFT
1.15 m
3' 9"
DISPLACEMENT steel - approx
4000 kg
8800 lb
POWER
50 to 120 hp
SPEEDS
8 to 13 kt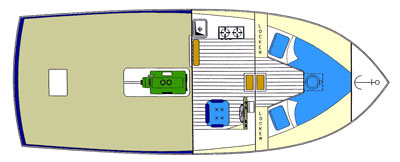 Coastworker 25 Planing Hull
Brand: Bruce Roberts
Product Code: Coastworker 25 Planing Hull
Availability: Discontinued
Tags: bruce, roberts, boat, plans, designs, building, adventurer, spray, canoe-stern, centennial-spray, classic, coastworker,