There are currently well over 700 of this design in use worldwide, several in the charter business. It has proven to be a fast comfortable boat and there are many, many more being built in either multi chine and radius chine steel or aluminium, round bilge fibreglass and wood epoxy.
The boat can be built with either a Cutter or Ketch rig, with personal preference dictating the builders choice as she performs well under all rigs. Version A features a centreboard with a 5' draft and is best suited to fibreglass (C­Flex, foam sandwich etc.) construction. Versions E and G are designed with pilot houses and have been very popular, and the last version drawn, the Version H provides maximum comfort for two couples with two large staterooms.
The study plan packages have details on the construction methods and techniques employed to build this design in the material of your choice. They also include materials lists, sail plans and accommodation layouts for all versions.
L.O.A.
16.20 m
53' 0"
L.W.L.
12.20 m
40' 0"
BEAM
Fg & W/E
4.72 m
15' 6"
Steel
5.06 m
16' 7"
DRAFT
Deep
1.98 m
6' 6"
c'brd
1.50 m
5' 0"
DISPLACEMENT
Fg
19,391 kg
42,750 lb
Steel
7,711 kg
49,850 lb
AUX. POWER
60 ­ 80 hp
B Version

Version E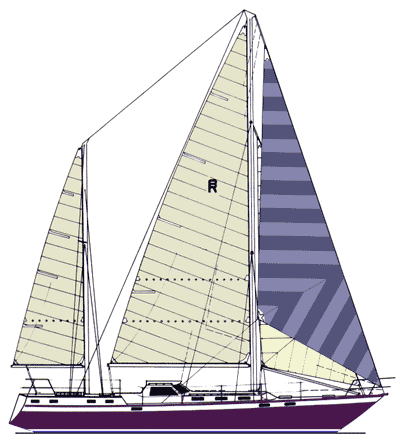 Below is an alternate layout for version E



Version G

Version H
"HENRIKA" This steel Roberts 53 was
built as a Training Ship for the "Boy Scouts of Finland"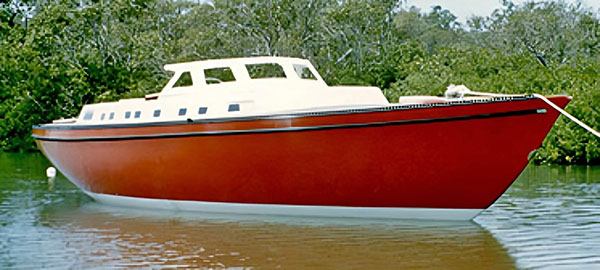 This fibreglass Roberts 53E is one of many that were built
at the Bruce Roberts International Marine Park in Brisbane, Australia.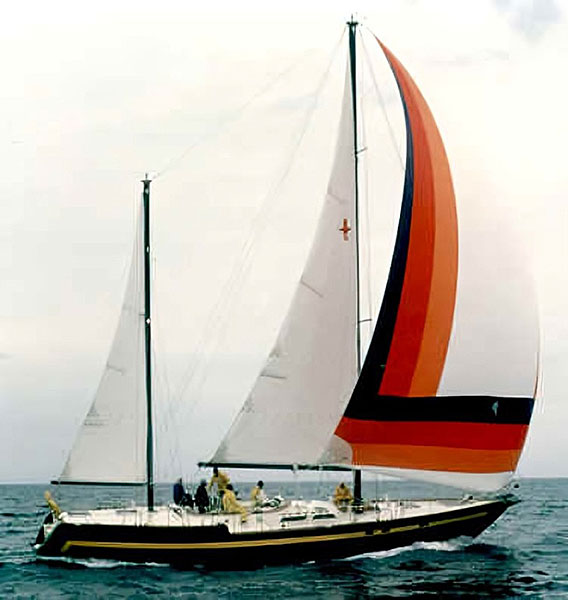 Fibreglass Roberts 53
Built in Canada and cruised extensively over the past 10 years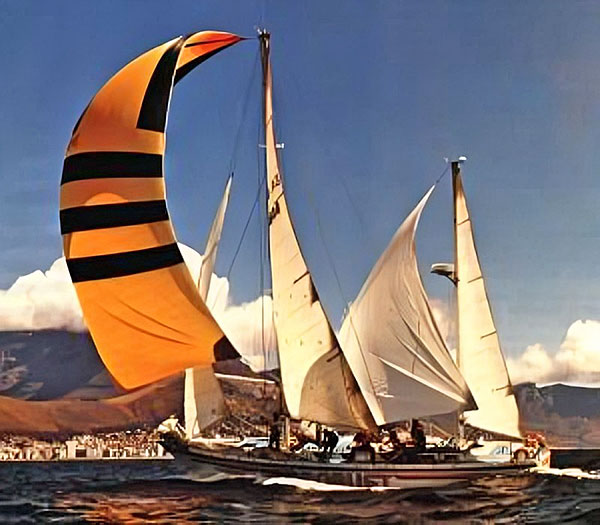 Fibreglass Roberts 53 "Robust"
This boat was built in South Africa and later
won the Cruising Division of the Cape to Rio Race.
LETTERS:
From: T Schreite Subject: 53 m/c steel under const. Date: Wednesday, March 11, 1998 3:55 PM
SIR, I AM CURRENTLY BUILDING YOUR DESIGN AND AM VERY PLEASED WITH THE RESULTS SO FAR. STARTED IN JUNE OF 1996.TURNED HULL IN OCT. 1997. I AM CURRENTLY WORKING ON THE DECK AND SHOULD HAVE IT ROUGHED IN ABOUT THE END OF MAY . A LITTLE ABOUT MYSELF AND THE BOAT: IM 38,MECHANIC,WELDER, FABRICATOR, FORMER US MARINE. WITH MY SKILLS I HAVE FOUND YOUR DESIGN TO BE EASY AND FUN TO BUILD . I HAVE MOSTLY DONE ALL OF THE CONSTRUCTION ALONE, WITH THE HELP OF A WHEEL LOADER ,WITH THE EXCEPTION OF TURNING THE HULL. I'M BUILDING IT AT WORK, A SAND AND GRAVEL PLANT, AND MY FATHER AND BROTHER ASSISTED WITH THE TURNING THE BOAT, SHOULD BE A SHIP, [EVERYONE IS CALLING ME NOAH] IS YOUR 53' M/C STEEL DESIGN WHICH WILL BE A PILOTHOUSE. IT IS MOSTLY FAIR WITH A FEW SMALL PROBLEMS, MOST OF WHICH I CAN CORRECT WITH A HAMMER BEFORE BLASTING AND PAINTING. THE ONLY PROBLEM I HAVE FOUND WITH YOUR PLANS SO FAR IS THE LACK OF INTERIOR DETAIL. BUT CONSIDERING I HAVE NOT GOTTEN THAT FAR I AM SURE THAT IT WILL WORK ITSELF OUT AS ALL ELSE HAS. THE HULL SHAPE IS VERY PLEASING TO THE EYE. AS YOU CAN SEE BY MY ADDRESS I COULD NOT BE FARTHER FROM THE OCEAN, WHICH I PLAN TO SAIL, SO I'M NOT SURPRISED SO MANY AROUND HERE THINK I'M CRAZY. THE MISSISSIPPI IS ONLY 6 MILES AWAY. IF I CAN BUILD IT ,I CAN GET IT THERE. PLEASE ADD ME TO YOUR NEWSLETTER LIST, I GUESS I GOT DROPPED. I WILL FORWARD YOU PICTURES OF MY BOAT BY E-MAIL IF I EVER FIGURE OUT HOW. I'M SURE I'LL ALSO HAVE QUESTIONS IN THE FUTURE, WILL IT BE BETTER BY MAIL OR E-MAIL? REGARDS , STEVE SCHREITER 165 CALBREATH FLORRISANT MISSOURI 63031 E-MAIL tschreiter@aol.com
Roberts 53
Brand: Bruce Roberts
Product Code: Roberts 53
Availability: In Stock
Related Products
Tags: roberts, plans, designs, adventurer, spray, canoe-stern, centennial-spray, classic, coastworker, fine-line, henry-morgan, longboat, powercat, trawler yacht, new york, waverunner,