Boat Building in "C-Flex Glass"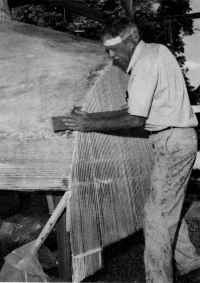 C-Flex fibreglass planking has been developed to make it possible to build a fibreglass boat without a traditional mold. All that is needed is a lightweight framework. In some the bulkheads and other frames which are usually fitted in the boat later can be used as part of the framework that you build the boat over.
This combination of rigid rods held together loosely, with pliable areas in between , is what makes C-Flex unique in construction materials. In our knowledge, it is the only self-supporting material available today which will conform to compound curves without having to be stretched or deformed in some way. Furthermore, C-Flex will bend sideways, a property which virtually eliminates the problem of having to fit or spile the 'planks'. Most boats can be built by starting the first 'plank' parallel to the sheer line then butting the next 'plank' right alongside all the way to the keel.
Aside from the obvious advantage of being able to build an all fibreglass boat without a mold, C-Flex also affords the designer and builder the opportunity to save weight over a conventional fibreglass laminate without sacrificing strength.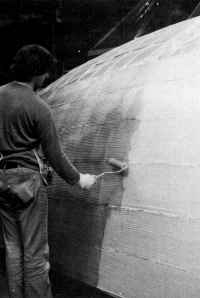 This is because C-Flex is an unidirectionally reinforced material and is considerably stronger in the direction of it's fibre orientation (lengthwise) than an ordinary fibreglass mat or woven roving laminate.This property is used to save weight in the hull shell by running the C-Flex along the lines of anticipated greatest stress (usually fore and aft).
The weight savings also translate into a cost savings. Even though the C-Flex itself costs more per pound than mat or woven roving, the completed hull shell will cost about the same as a hull built with just mat and woven roving. The advantages of being able to build without a mold and the weight savings are a bonus.
---